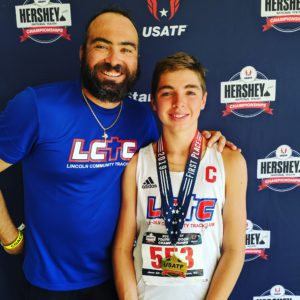 Patrick Grosserode – Long Jump, Triple Jump, Sprints, Hurdles
USATF Level 2 – Jumps
USATF Level 2 – Sprints/Hurdles
USATF Level 1
Jumps Coach – Lincoln Pius X
Head Coach and Director – Lincoln Community Track Club
I am a student of the sport and have been since I was in 6th grade.  I have been fortunate enough to have been coached by the three Hall of Fame Coaches and train with teammates that have gone on to Olympic glory.  Everyone who has been part of my programs know that I am always looking for the newest research and trying to apply it to drills that can improve performance.  If you are an athlete that is looking to improve your technical approach to jumps or hurdles, sessions at The Ville are built for you! You can follow me @coachpatrickjumps on Instagram to see how I translate drills to performance.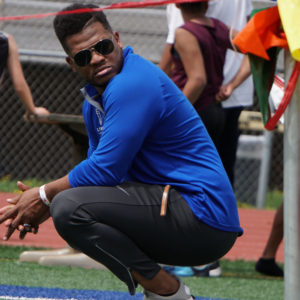 Raymonn Adams – Sprint Speed School
Head Coach and Director – Olympus Track Club
My entire life I've been an athlete. I had amazing high school coaches, went to a prestigious college where I still hold over 20 football records as well as a National Champion title in Track & Field. From there I went on to play professional football for a total of 5 years. The most notable team is the New York Jets in the NFL. About a year ago I was inducted to my college Athletic Hall of Fame.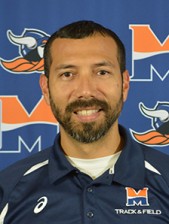 Lyon Avila – Pole Vault
Assistant Coach – Midland University
Lyon Avila has served as a Midland University assistant track & field coach since 2017. Avila recently coached Chase Andresen to a National Association of Intercollegiate Athletics (NAIA) championships performance in 2019 and Isaiah Brown to All-American status and a Great Plains Athletic Conference (GPAC) championship in 2018.
Avila was a vaulter at the University of Nebraska-Lincoln from 1997-2001.
Zach Lurz – Throws
Coach Zach Lurz has been on the Doane coaching staff since the fall of 2019. Lurz previously served as head coach at Dakota Wesleyan (S.D.) in 2019 and as an assistant (throws) in 2018. He coached seven NAIA All-Americans in two years with DWU, including the program's first national champion. Prior to becoming a coach, Lurz had a decorated collegiate career at Concordia (Neb.). He was a four-time national champion while earning 17 NAIA All-American honors. He also had a dominant stretch in the GPAC, winning nine conference event titles and going on to be named the USTA-CCCA NAIA and Midwest Region Male Field Athlete of the Year.

Mike McCann – High Jump/Sprints
Coach Mike has most recently worked as an assistant track coach at the University of Nebraska from 2018 – 2019, where he specialized in high jump and sprints/hurdles.  Mike also assisted the on-campus recruiting coordinator and worked with event coaches on recruiting foreign and domestic athletes.  Mike has coached multiple Big 10 champions as well as 1st and 2nd team All-Americans.  Mike also achieved All-American status as a high jumper in 2017.
Chris Daniels – Throws
Coach Daniels come to us after serving as the assistant to the throws at the University of Nebraska under head throws coach Scott Cappos from (2018-2020). Coach Daniels has a wide range of experience, from coaching middle school to collegiate athletes. With his 8 years of experience coaching throws, Daniels has developed athletes who have totaled the following accolades: 21 Nebraska High School State Championships in the shot put and discus, 2 New Balance indoor and outdoor champions in the shot put, 2 Big Ten Champions, and 1 JUCO National Champion and record holder in the hammer throw. Additionally, Coach Daniels is a Big Ten Champion.